The Appearance of this Shower in Willard, MO, Completely Changed Thanks to a Grout Cleaning Service
June 26, 2017
Each brand-new shower goes through the same cycle. At first, it is the joy of many proud homeowners and a special place where one can relax. But with the passing of time, neglect sets in; the shower becomes just one more thing inside the house. That's when the obsessive cleaning of the first days is substituted with long stretches of sub-standard cleaning, which ultimately can lead to grimy grout.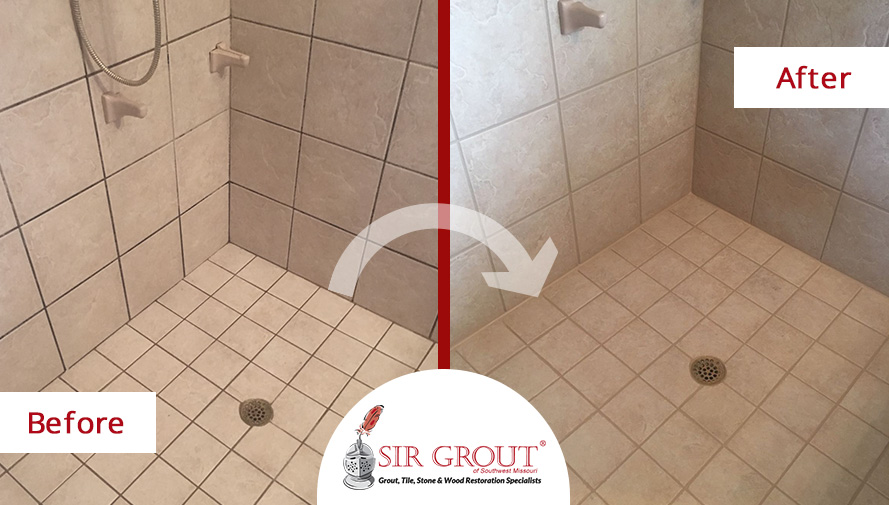 Our clients, a couple of Missouri natives living in Willard, had this problem. They had a beautiful shower, but the grout had considerably darkened over time. Even though they had tolerated this for a while, they were worried that no amount of detergent was enough to restore their grout to its original color. They finally thought it was necessary to find a
Willard grout cleaning
company who could help them restore their shower's appearance.
The reason why they couldn't do much about their stained grout was because it had already absorbed dirt and other staining agents. Grout is highly porous, especially sanded grout, and if its sealant has been worn down or never reapplied, grout will easily absorb water, soap, dyes and all manner of substances that can make it dirty. At this point, only a professional grout cleaning service can make the grout look good again.
The Willard natives didn't know where in South West Missouri they would be able to find a grout cleaning company that could do a high-quality job, so they asked around their circle of friends if anyone could point them in the right direction. Thankfully, one of their friends told them about Sir Grout SW Missouri and gave them the link to our website. After checking out the gallery that showcased our work, they decided to give us a chance and set up an appointment for a free evaluation at their home.
With little notice, our team showed up at their place to take a look at the grout and offer a solution to our client's problem without sacrificing quality. The grout looked almost blackish, which made it clear that water was seeping into it, causing a bit of mold growth. To recover the grout's original appearance, sanitize the shower, and seal it against future water damage, our crew of experts suggested our flagship treatment: a grout cleaning and ColorSealing service. Trusting their knowledge and expertise, our clients agreed.
On the appointed day, our team of expert techs returned to get their hands dirty. We first started by applying our own proprietary cleaner on the affected areas of the shower and letting it sit for a few minutes to stir up all of the dirt buildup. Then, we used a high-speed scrubber to remove all the muck and gunk staining the grout. For the most resilient dirt and also to kill bacteria and mold, we used a high-temperature steam cleaner.
Once the shower was completely sanitized and as clean as possible, our crew re-caulked the joints of the shower with our own Epoxy caulk. We then sealed the remaining grout with ColorSeal—our special water-based, non-toxic sealant that helps recolor your grout in a wide variety of hues, while also making it water-, mold-, and stain-resistant. To complement the lovely shower colors, the clients requested an earth tone for the grout, which has the advantage of being harder to stain.
When the clients saw their shower, they were pleased with how the clean grout truly made a difference. They thanked the team and promised to not let too much time pass before doing the necessary maintenance on their shower and grout.
There are several ways to prevent staining your grout, but the main thing you must do is to keep it sealed. Keeping your grout sealed will prevent water damage, and will not allow substances like dyes and soap from seeping into the grout, changing its color.
If the grout in your shower is giving you nightmares and you wish to restore it to its best appearance, then you need the help of an expert hard surface restoration team like the one at Sir Grout SW Missouri. Call us at
(417) 522-1010
or fill out our "Request a Quote" form to request a free consultation. Also, consider subscribing to our
newsletter
to find out about our latest promotions, and follow us on
Facebook at Sir Grout SW Missouri
,
Twitter @SGSWMissouri
and
Instagram @SirGrout
to get more valuable info on hard surfaces.