Sir Grout's High-Quality Grout Cleaning Service Renewed This Worn-Out Floor in a Branson Home
October 25, 2017
The cleanliness of a home's floors can stand out for better or for worse. Even though this client in Branson diligently cleaned her floor, the grout lines still were discolored. Not knowing what else to do, she started asking her friends if they knew of a company that offered
grout cleaning in Branson
, and they recommended Sir Grout SW Missouri because of the great experience they had with us. She then went to our website and requested a free in-home consultation.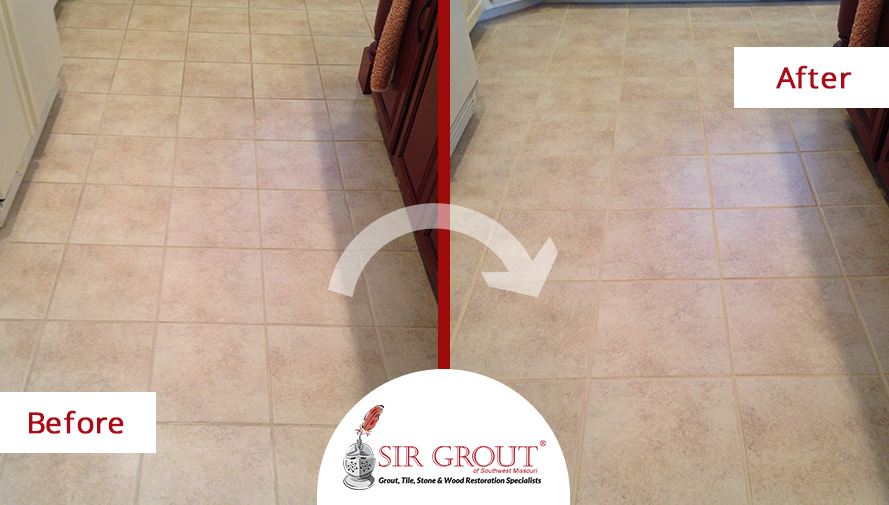 Homeowners do not usually pay attention to how important grout is in the overall appearance of a floor. Grout is a mixture of cement and sand that is used to fill in the spaces between tiles. Sanded grout, the most common type, is excellent for heavy tiles like the ones on this client's kitchen floor. This grout, however, also is porous, which means that it absorbs moisture and grime that can cause stains or discoloration. To avoid this, sanded grout needs to be sealed after installation. Unfortunately, this client's grout was not sealed. The solution to this problem is to apply a grout sealant for long-lasting protection.
On the day of the assessment, we knew by the look of the floor that something was leaving residue on the grout. We asked the homeowner about her cleaning procedures, and she said she frequently cleaned the kitchen floor with concentrated cleaners. It turned out that her favorite household cleaner, a concentrated liquid gel, was responsible for the dinginess of the grout. The soapy residue of these types of cleaners attracts grime that sticks and builds up on the grout. Our client was in dire need of a grout cleaning and ColorSealing procedure.
High-quality ceramic tiles like the ones in this client's home are easy to clean and normally won't stain. In fact, her tiles were in good condition. However, we still cleaned them to prepare the floor for the grout procedure. We started the procedure with a scrubbing machine and an appropriate cleaner. The high speed of the scrubbing machine got rid of the deep-seated grime that had been accumulating on the grout. Once the grout was clean, we started our ColorSealing procedure, which required ColorSeal, our very own sealant that makes grout resistant to spills, stains, mold, and mildew. ColorSealing is the best option for covering and protecting grout, and it comes in a range of colors for you to choose.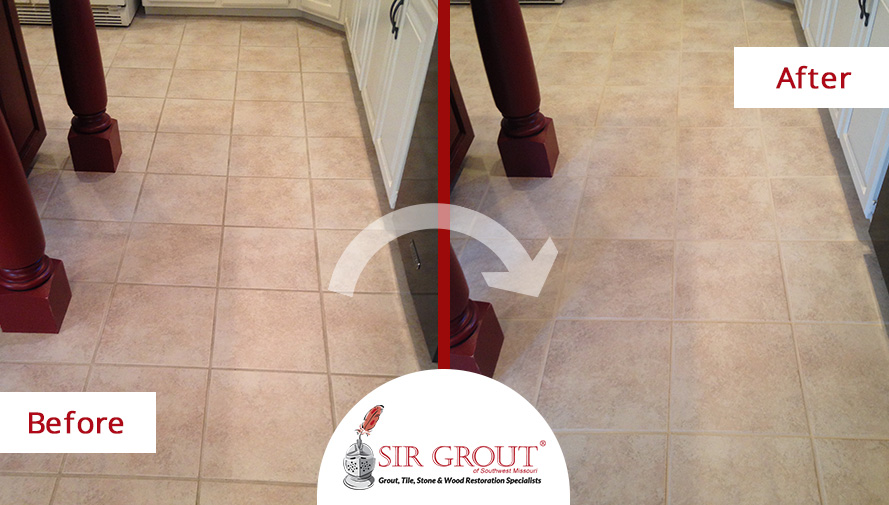 The results of both procedures exceeded our clients' expectations. She was very pleased with the restored grout. However, we also reminded her that she needed to adjust her cleaning routine in order to get the full benefits of our cleaning and ColorSealing procedures. We encouraged her to avoid using concentrated, soapy cleaners because they tend to cause buildup and attract dirt. We also advised her to make sure that her mop water is clean. One way to do this is use two buckets—one for the cleaning solution and the other to rinse the mop. This keeps the mop cleaner and avoids spreading dirt. These simple steps can keep your grout in optimal conditions for a long time. For the ceramic tiles, we recommended our professional sealing procedure, which would make the tile completely moisture-resistant and protect it from mold and mildew.
Sir Grout SW Missouri has a team of experienced technicians who know all about natural stones and hard surfaces, and we have the expertise to restore their appearance. You can rest assured that our services will exceed your expectations. For more information, contact us by calling
(417) 522-1010
, or fill out the "Request a Quote" form on our website to get a free in-home consultation. Find us on
Facebook at Sir Grout SW Missouri
, follow us on
Twitter @SGSWMissouri
, and
Instagram @sirgrout
. You can also subscribe to our
newsletter
to receive updates from Sir Grout SW Missouri directly in your inbox.