Quick Maintenance! See How These Floors Improved After a Grout Cleaning Service in Springfield, MO
August 11, 2017
The thing about grout is that people fail to notice it until there's something wrong with it. The purpose of grout is to simply complement the tile or stone in your home and, if desired, go as unnoticed as possible. But dirty, grimy, and stained grout is far from subtle —instead of complementing your floors, it makes them unsightly. Going long time without a grout cleaning service can only deteriorate your property, and a property manager knows this.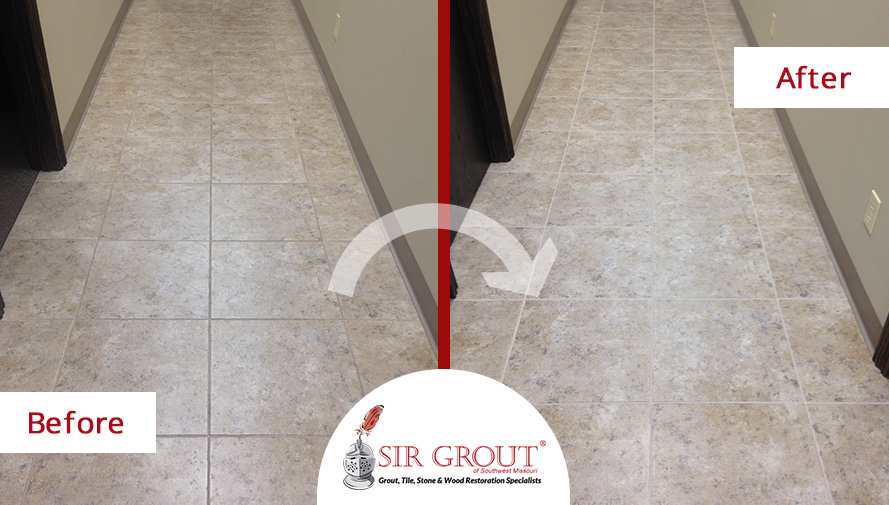 Our client was a property manager based in Springfield, MO, who was considering professional cleaning services for the common areas of a property he had. Some tenants had been mentioning that the floors looked a bit soiled, so he wanted to have this taken care of as soon as possible. He went on Google and browsed around, looking for the best local
Springfield grout cleaning
service providers. It didn't take long before our client stumbled upon Sir Grout SW Missouri's website. After going through our portfolio of work and checking out our credentials and our reviews, he decided to place a call and sign up for a free in-home evaluation.
What most people tend to forget is just how porous grout can be. The most common type of grout is made of a mixture of cement and sand, and both of these components absorb any liquids that fall over its surface —whether it is water, orange juice, etc. Moist grout can also become a hotbed for mold and mildew, attract and retain grime, and other problems that can be avoided just by consistently sealing the grout.
When our team arrived at our client's property to make the assessment and offer the best treatments to restore the grout and make the floor look good again, they noticed immediately how the darkened grout popped out because of the light tiles. It appeared that the sealant had worn out over time, so to solve the problem, they suggested Sir Grout's flagship grout cleaning and ColorSealing treatment. Trusting our reputation and expertise, our client agreed to the service and scheduled another appointment for the job.
When the day arrived, our team returned and got to work right away. They started by applying the appropriate type of cleaner and letting it sit for a few minutes to stir the grime buildup in the grout, and then machine-scrubbed and wet-vacuumed the entire floor. To eliminate the most persistent stains and sanitize the grout, they also used a steam cleaner.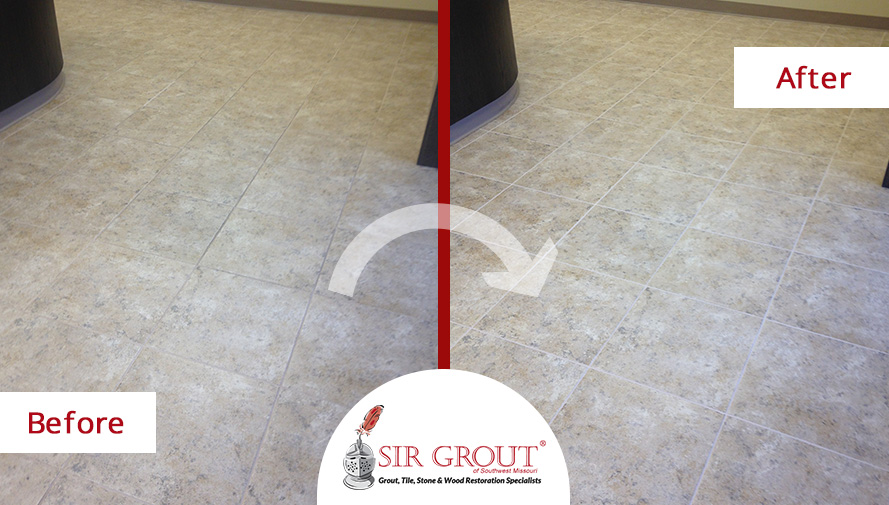 Once the floor and the grout were clean, our team of professional techs meticulously applied our proprietary product ColorSeal on all grout lines. ColorSeal is a water-based, non-toxic sealant that not only makes your grout resistant to water, mold and mildew, but also helps recolor and even out the hues of the grout lines, giving them a beautiful and uniform finish.
When Sir Grout SW Missouri's team finished the job, they presented our client with the results. He sighed with relief, knowing that the tenants would be content now that the floor looked brand-new. He also told the team he would keep their contact information, as he would like Sir Grout SW Missouri to return for future hard surface restoration work.
Providing maintenance to the common areas of a residential or commercial building can be a challenge, even if it's a simple cleaning job. A good property manager knows it is better to hire a professional service, as this will achieve the best results and will also avoid scheduling conflicts between tenants.
If your floor is looking less than stellar due to stained and grimy grout lines, then it is time to take action and call Sir Grout SW Missouri. We have experience with many types of hard surface restoration, from grout cleaning and sealing, to natural stone surface maintenance and more. Call
(417) 522-1010
or fill out our "Request a Quote" form to schedule a free, in-home evaluation and get your quote. Consider also signing up to our
newsletter
to be privy on our best promotions, and following us on
Facebook at Sir Grout SW Missouri
,
Twitter @SGSWMissouri
and
Instagram @SirGrout
.