Learn How a Grout Recoloring in Springfield, MO Saved This Homeowner Tons of Time Cleaning
November 17, 2017
Keeping your home clean can be daunting. The average 2,000-square-foot house in the United States requires a diligent cleaning routine to keep it organized and tidy every day. From decluttering and mopping the floor to dusting furniture, emptying the trash, and polishing mirrors, you don't know how much work it is to clean a house until you own one. With so many daily, weekly, monthly, and yearly chores, it's only natural that homeowners often forget small details, such as cleaning the grout in their showers.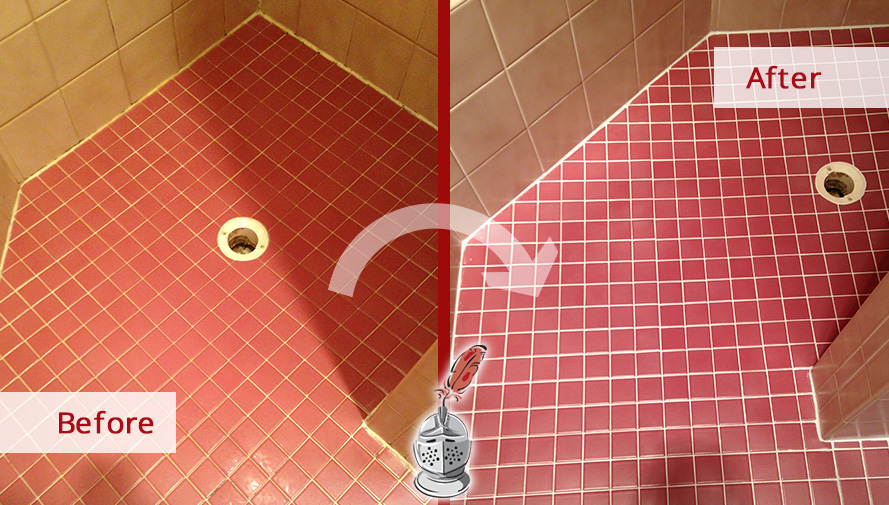 These homeowners hired our
grout recoloring services in Springfield, MO
after noticing that the grout lines in their master shower had faded and were not uniformly colored. The married couple had just bought their first home a few years ago. They were working professionals with demanding jobs, and it was easy to lose track of what needed to be done to keep their house in order. That was why they sometimes left some of the difficult chores to professionals. In particular, cleaning grout was a nightmare for them. No matter how much they tried to keep the thin lines between their bathroom tiles clean, it was impossible to completely remove the dirt around the corners.
One day, they stumbled upon a social media post about Sir Grout SW Missouri's grout restoration services, which directed them to our website. Once they got to know us and our cleaning methods, the couple decided to hire us at once to clean their master shower. We received a request for a free, in-home consultation through our website, and we scheduled an appointment at the homeowners' convenience.
The shower that the Springfield residents wanted us to restore was interesting. The tiles on the floor were not the same size and colors as the ones on the walls. The combination of medium-sized, light brown tiles and small red tiles gave the room a radiant style. However, the discolored grout made the shower look darker, not to mention unappealing and dull. Also, we noticed during the in-home consultation that the shower bench's joints were filled with dirt.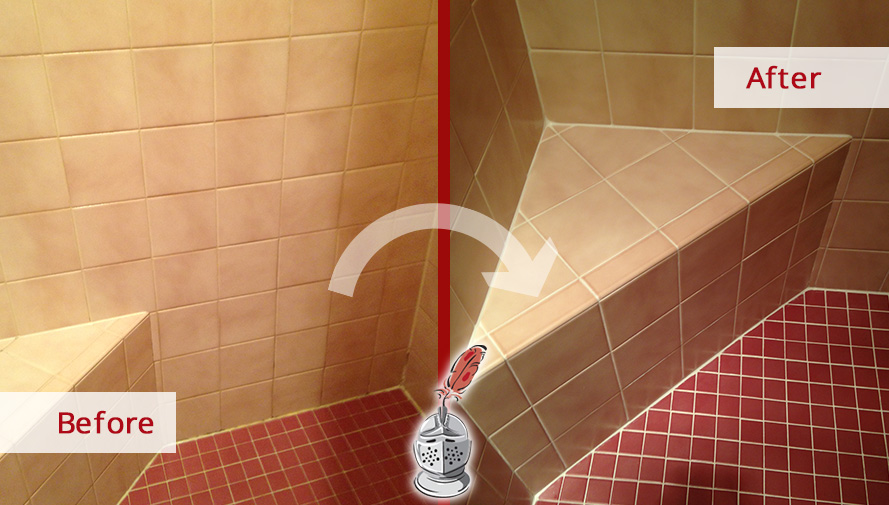 Grout deterioration and discoloring occur naturally, especially in showers, which are exposed to water every day and are not deeply cleaned on a regular basis. Using safe cleaning products and getting an occasional professional cleaning are the best ways to prevent these problems. Our team told the homeowners that the shower needed a deep cleaning to remove the embedded grime from the grout lines. But some areas were already too stained for a simple cleaning, so we also suggested recoloring the grout using Sir Grout's proprietary tinted sealant, ColorSeal. They loved our proposal and were surprised to learn that we have a wide variety of grout colors to choose from. The homeowners wanted to brighten the shower, so they chose to whiten the grout so it would go nicely with the red tiles.
A team of Sir Grout SW Missouri's experts returned to the Springfield residence a few days later to get to work. First, they removed all the items that could get damaged during the cleaning process. Then it was time to start. The team began by using a non-toxic, soapless cleaner to remove the grime that was stuck to the grout lines and tiles. They let it sit for a few minutes and scrubbed the floors and walls until the grime was gone. A high-speed, gentle scrubber and a vapor steam cleaner were also used on the most stubborn dirt. After the shower was clean, we proceeded with our ColorSeal process. ColorSeal is our very own water-based, acrylic sealant that recolors grout. In other words, our sealant uniformly recolors grout and makes it resistant to water, stains, mold, and mildew. Our technicians applied the product carefully, making sure that each corner and grout line were covered. To top things off, our experts used Sir Grout's Tile Armor sealant on the entire shower to also protect the tiles from future damage.
The results were outstanding. As you can see in the pictures above, the white grout really brightened the room. The homeowners jumped for joy when they saw their bathroom and learned that cleaning their shower would be much easier thanks to our ColorSeal process.
Regardless of how many products we use to protect tiles and grout, regular cleaning is still a must-do for homeowners. We recommended that the homeowners use a pH-neutral cleaner to clean the shower—or any surface—to avoid removing the sealant from the tiles and grout. As a rule of thumb, bathrooms should be cleaned at least once per week to prevent dirt or stains from damaging the surface. We advised the homeowners to always keep their hard surfaces properly ventilated, especially humid environments like showers. The residents kindly listened to our recommendations and thanked us for our wonderful work.
If you want to revamp your shower, a grout cleaning might be just what you need. At Sir Grout SW Missouri, our professional technicians, effective products, and cleaning methods will make your shower look stunning. We also offer tile cleaning and sealing services for any kind of ceramic and stone surface, such as kitchen countertops and entryways. Call us at
(417) 522-1010
or fill out the "Request a Quote" form on this website to schedule a free, in-home consultation with us today! For more information about our company, find us on
Facebook at Sir Grout SW Missouri
, and follow us on
Twitter @SGSWMissouri
, and
Instagram @SirGrout
. Subscribe to our newsletter to stay up to date with our promotions.