A Stone Cleaning Service Restored the Multicolored Slate Tiles of This Patio in Galena, Missouri
March 17, 2017
Natural stones embellish any environment, especially hardscapes like sidewalks, walkways, or patios. A homeowner from Galena, Southwest Missouri, had multicolored slate tiles installed in his backyard patio floor; the different colors and textures of the square stone tiles gave the place a unique, rustic look. Along with some outdoor furniture and a big grill, the patio became the perfect place for family gatherings and parties with friends.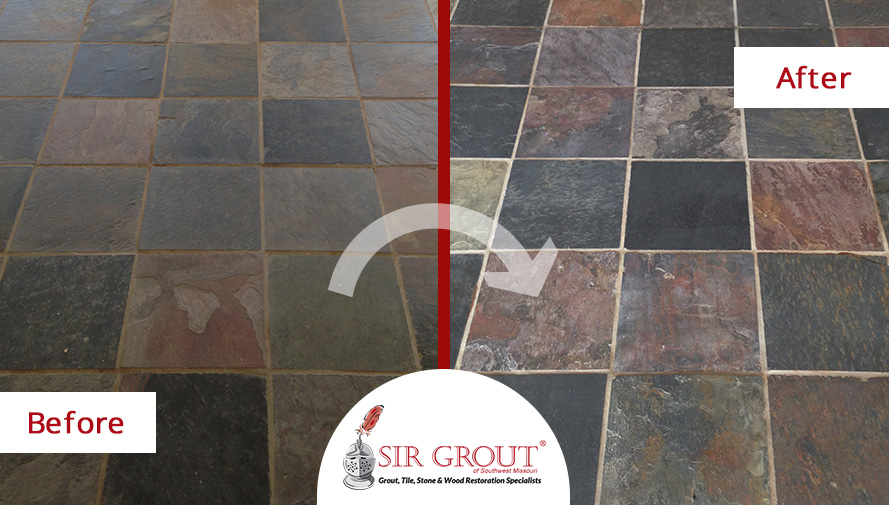 One day, the homeowner noticed that the once beautiful floor began to appear unsightly. The different colors of the slate tiles didn't stand out because of the dirt that darkened the floor. Noticing how unattractive the patio looked, the Galena resident went online to search for a company nearby that could help him restore the stone surface. Luckily, he found Sir Grout's
Galena stone cleaning
services. After confirming that our services were exactly what he was looking for, the homeowner scheduled an appointment for a free consultation by filling out the "Request a Quote" form on this website.
Our experts arrived on the fixed date and time of the appointment. The homeowner welcomed us to his house and showed us the slate outdoor surface, which covered around 16 feet of the backyard patio floor. After so many years of foot-traffic and environmental exposure, the slate tiles lost their rustic, natural colors and the grout was covered in dirt and grime. Even if the slate is a durable, low-maintenance stone that absorbs minimal moisture, it still needs regular care and constant cleaning, especially when outdoors. Fortunately, our team had the perfect solution; they offered the Galena resident a stone cleaning plus a sealing service to restore the floor, to which he agreed immediately.
The team started the restoration process a few days after. First, they cleaned the floor with Sir Grout's proprietary, non-toxic tile and grout cleaner along with a high-speed yet gentler scrubber. Once the floor was completely clean and all the mold and dirt was removed, they used Sir Grout's enhancer and sealer specially designed to bring out natural tones in stone floor; this product is an oil and water resistant sealer that gives a glossy look to the floor while protecting the surface against the effects of weathering, stains, and water damage.
Our service enhanced and refreshed the colors of the faded slate tiles and gave them a darker, shiny look. The client loved the results! He even told us that the tiles were now more colorful than when he had them installed several years ago. Last but not least, our hard surface restorers gave the resident a few maintenance tips and recommendations to prevent future floor damage. They advised the Galena resident to use a pH-neutral cleaner to clean the floors, which is safe for grout. Slate is a unique rock that needs regular maintenance since excessive foot-traffic, natural elements, or wrong cleaning methods can make it look damaged and unattractive over time. For this reason, our team recommended the client to re-seal the floor at least once a year; this procedure will prevent stains, water damage, and the buildup of mold and mildew.
Do your outdoor natural stone hard surfaces need a touch-up? Sir Grout SW Missouri is perfect for you! We offer stone cleaning and sealing services for any kind of natural stones. Call us at
(417) 522-1010
or fill out the "Request a Quote" form on this page to set up a date for free, in-home evaluation and we will be happy to assist you! Also, to keep up to date with our promotions, find us on
Facebook at Sir Grout SW Missouri
, and follow us on
Twitter @SGSWMissouri
and
Instagram @SirGrout
. You can subscribe to our
newsletter
if you want to receive first-hand future information about our services.