A Grout Recoloring Service Enhanced the Elegant Look of this Tile Floor in Springfield, MO
February 21, 2017
Our client, an accomplished journalist working in Atlanta, was visiting her mother on a long vacation and was enjoying herself quite a lot. One morning, she woke up early and saw her mother on her hands and knees, scrubbing the floor so intensely she thought she was about to sprain her wrist. Her mom told her she had been trying to clean the grime on the grout because it made her tiles look dingy. However, no matter how much soap and detergent she used, the dirt would not wash away. Knowing her mother prided herself on keeping her house immaculate, our client decided to do something about it.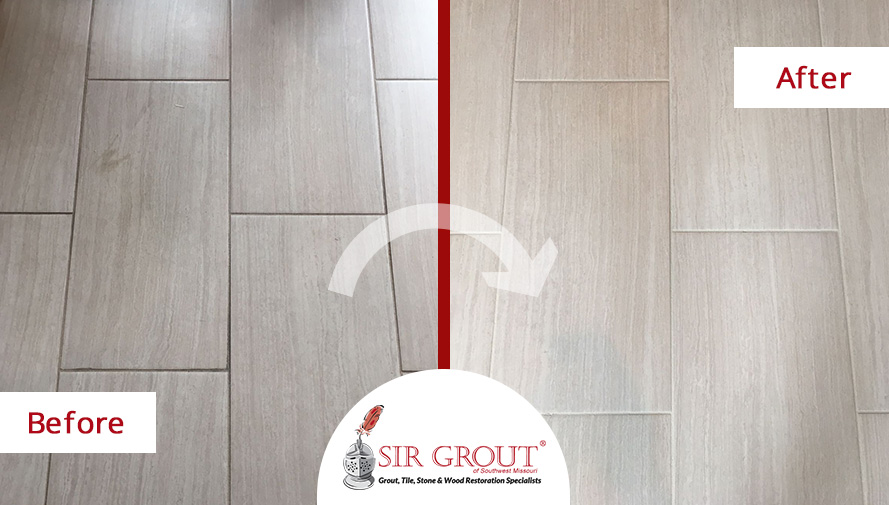 Thinking on how nice it would be for her mom to suddenly find her floors looking impeccable, our client researched online about grout cleaning methods that could remove that horrible grime from her mom's living room floor. Noticing her mother had already tried most the DIY recipes she found, she opted to look for a local
Springfield grout recoloring
service. She soon found Sir Grout SW Missouri's website and after checking a few reviews on Yelp she signed for a free, in-home evaluation.
A few days later our team of experts arrived for the inspection. Our client's mother was conveniently out of the house running a few errands and she showed them the floor. The tiles were in almost perfect condition though the grout was considerably stained and grimy, which was probably due to it not being sealed correctly. Our technicians suggested a grout cleaning and recoloring service to restore the floor and our client agreed.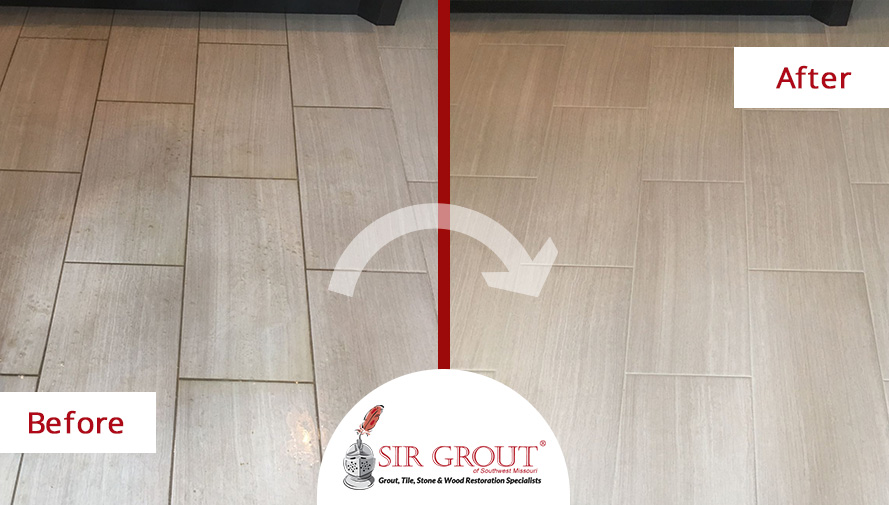 The scheduled day our team showed up at our client's residence. Again, her mother had gone on an outing, so it would be a true surprise when she saw the results. Our team got to work right away, first applying our own soap-less, pH balanced cleaner with a high-speed yet gentle scrubber. For the most difficult spots, they used a steam cleaner. Finally, when the cleaning was finished, it was time to apply our proprietary ColorSeal, a water-based sealant that comes in a wide variety of hues and helps recolor grout lines while making them stain-, water-, mold-, and mildew-resistant.
Thankfully, our technicians were able to finish their work before our client's mom arrived. The young woman complimented their job, saying she was sure her mom was going to be thrilled to see how the floor came about. Luckily, the lady arrived just in time for the team to see the gleam in her eyes when she saw how lush and clean they left her floor.
Before leaving, our techs gave her a few floor maintenance tips to pass on to her mom. First, it is best to opt out of using soap-based detergents for cleaning since soap tends to leave a sticky residue that attracts grime. To protect the entirety of tiles and grout and to avoid wearing out the sealant, the best alternative is to stick to a pH neutral cleaner. Lastly, it is good to dry floors with a terrycloth to wipe away any cleaner residue.
Are you suffering from stained grout lines that ruin the look of your floors and tiles? The experts at Sir Grout SW Missouri are ready to help you with their prime-quality treatments and products for grout. Fill out a "Request a Quote" form or call us at
(417) 522-1010
to set up an appointment. If you want more tips to keep your floor looking superb follow us on
Facebook at Sir Grout SW Missouri
,
Twitter @SGSWMissouri
and
Instagram @SirGrout
.