These Tiles Returned to Their Pristine White Condition after a Tile Cleaning Service in Willard, MO
February 02, 2017
Some people are lucky to inherit real treasures from their family. In this client's case, this treasure came in the form of a beautiful colonial-style house. She had inherited it from her mother a couple of years before, and had decided to restore it as best as she could. Slowly but steadily, she managed to renovate most of the house, but by the time she got to the downstairs bathroom, her funds were running a little low. A full renovation was not a possibility anymore, but neither was giving up on the project. She was convinced that there was surely a way to make the bathroom look good again.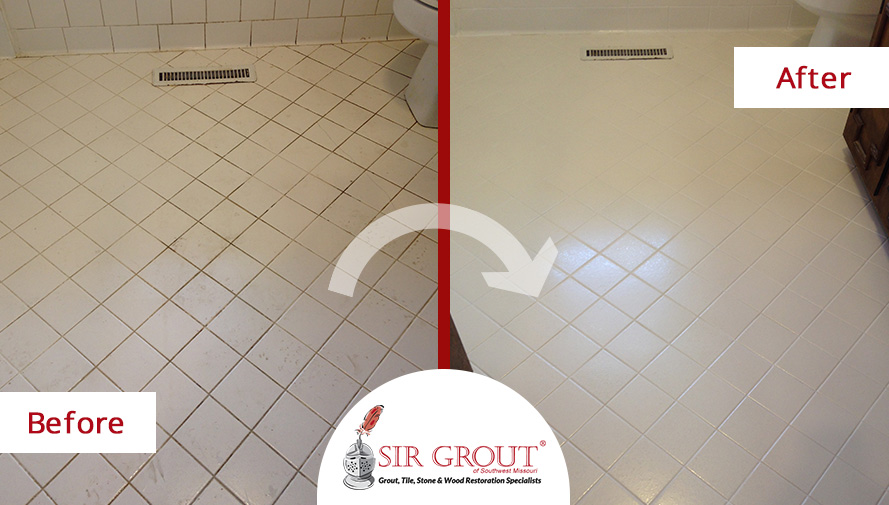 While searching online for home improvement services providers, she came across an online blog post that described a predicament similar to her own and that listed a few companies that offer
tile cleaning services in Willard, MO
. That is where she found Sir Grout SW Missouri. After learning about the services we offer, she signed up for a free in-home evaluation.
When the day of the consultation arrived, our team of specialists went to the client's residence to meet her and assess the situation. The problems were evident: years of using unsuitable cleaning products and methods led to the staining of the grout and the accumulation of sticky soap residue and dirt. Additionally, mold was starting to grow in the grout. The team kindly suggested a thorough grout and tile cleaning service to restore the bathroom to mint condition and a ColorSealing service to ensure long-lasting results. Our client agreed, so we scheduled a new date to perform the service.
On the scheduled day, our experts arrived and started the cleaning procedure. First, they applied our proprietary soapless and non-toxic cleaner for tile and grout and then used a high-speed yet gentle scrubber to remove most of the dirt. To kill the mold and mildew, and also reach difficult spots, they used a steam cleaner. Once this was done, Sir Grout's proprietary ColorSeal was applied to recolor the grout and make it stain-, water-, mold-, and mildew-resistant. ColorSeal is a water-based sealer that rejuvenates grout lines by giving them an even color, and it is non-toxic, which makes it perfectly safe for children and pets.
Once our job was done, we showed our client the results. When she saw that the white tiles had been restored to their original beauty, she almost teared up. She said her mother would have been thrilled to see the bathroom restored to the way it was when she was little. This house held so many memories for her, and restoring it had not only been about protecting her legacy, but also safeguarding something precious to her. It was our pleasure to be able to help her in such a personal endeavor.
Before our technicians left, they gave the client a few useful maintenance tips. They told her that it is best to forgo soap when cleaning since it tends to leave a sticky residue that catches dirt and fosters the growth of mold, mildew, and other fungi. Instead, it is better to use a soapless, pH-neutral cleaner. Also, when mopping, it is important to use a clean mop and continuously change dirty water. And finally, they told her it is best to dry the floors and other surfaces with a clean towel or terry cloth, since air-drying only causes dirty cleaner residue to settle into the grout and tiles, staining them.
Are your tiles and grout stained or damaged? If you live in Willard or surrounding areas, you can call
(417) 522-1010
or fill out the "Request a Quote" form on this page to schedule a free evaluation with the experts at Sir Grout SW Missouri. You can also find us on
Facebook at Sir Grout SW Missouri
, and follow us on
Twitter @SGSWMissouri
and
Instagram @SirGrout
.