Stone Cleaning Job in Springfield, MO Restores This Travertine Floor to its Original Charm
June 02, 2016
Favored by the Romans for building everything from temples to the amphitheaters like the Colosseum, travertine has been used for a very long time. Homeowners love this beautiful natural stone that comes in grey, tan, white, and cream-colored varieties, highly used in modern architecture. Perhaps one of the distinguishing characteristics of this stone, besides the elegant look it can give any home, is its pitted holes and troughs. Unfortunately, these holes and troughs can trap dirt and grime, making the stone lose its appeal. Tumbled travertine tiles like the ones in the home of this Springfield, MO resident can be really difficult to keep clean, especially if they are not properly sealed or if the original seal has worn away. This homeowner found out about this fact the hard way, her once-elegant travertine floors looked absolutely filthy.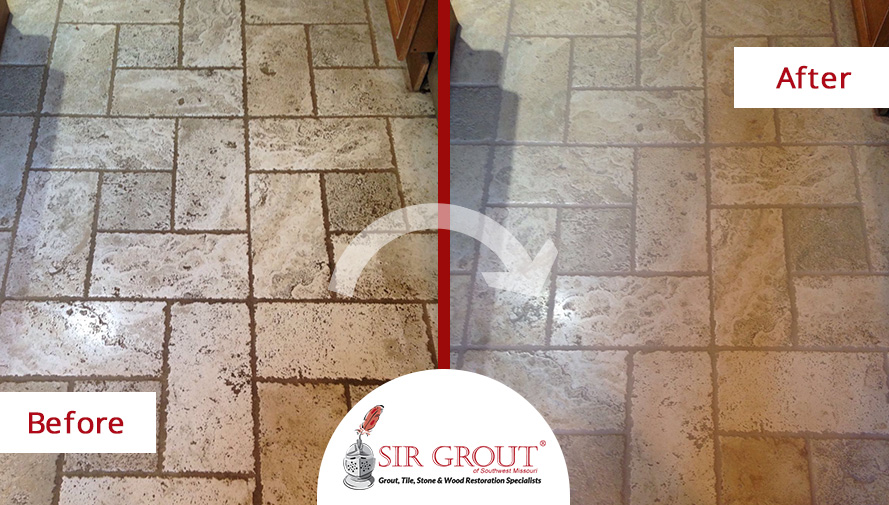 She spent hours online looking for cleaning tips to restore the floor back to its original beauty and tried every single one, but the cleaning products and methods weren't doing the trick. It felt like a never-ending nightmare for the homeowner, and she needed a professional cleaning service that could bring it to an end. So she went online again, but this time she searched for
Springfield stone cleaning
services and found Sir Grout SW Missouri's website. After reviewing the testimonials and the blog posts about the jobs we perform, she decided to contact us immediately.
When the team made the initial inspection, they realized how bad the travertine floors actually looked. They were in dire need of a comprehensive deep cleaning service. The team also realized that the grout lines – which were just as filthy as the travertine tiles – would need a grout recoloring and sealing as well. Following these simple steps, the floor would be renewed and the homeowner's nightmare would come to an end.
On the day of the job, our team was ready and willing to restore the travertine floor. They started by applying a pH neutral cleaning agent to the stone floor with a gentle scrubbing system designed to remove the dirt from delicate stone floors. However, there was still dirt deeply ingrained in the travertine's troughs! The team came prepared and used vapor steam cleaning to remove every last bit of grime. The floors already looked much better, but it was missing one final touch. Our experts applied Sir Grout's ColorSeal in a light-colored shade to seal the grout. Among ColorSeal's many benefits is the fact that it protects grout from stains, mold and mildew, which was a plus for the homeowner since she wouldn't have to invest precious time trying to scrub the dirt out of the grout.
Our customer was ecstatic when she saw her renewed floors! She thanked the team for their hard work and their attention to detail, noting how the grout lines looked like new. Her home was now ready to receive family and friends once again.
Our team was happy that the homeowner was satisfied with the services performed, but they wouldn't leave without giving the homeowner recommendations on how to preserve her natural stone floor. They warned her to stay away from abrasive or acidic cleaners since they chemically react with the calcium carbonate found in travertine, causing the stone to dissolve. The team recommended that she always use a neutral, stone-safe cleaner instead. An easy trick to identify acid cleaners is by checking if the ingredients end in –ide, –ite, or –ate.
Does your natural stone floor look dirty and unkempt? If your answer was yes, then you might need a professional stone cleaning service. If you live in Springfield or surrounding areas, you can call
(417) 522-1010
or visit our contact section to schedule a free evaluation with the experts of Sir Grout SW Missouri. You can also find us on Facebook at
Sir Grout SW Missouri
, and follow us on Twitter
@SGSWMissouri
and Instagram
@sirgrout
.