Sir Grout of Southwest Missouri Cleans and Polishes a Ridgedale Couple's Travertine Floor
May 26, 2015
We were recently contacted by a couple in Southwest Missouri, Steve and Stacey, who were excited about the purchase of their new lake house in Ridgedale. While they were thrilled with their new place, they were not thrilled with the 1,000 sq. ft. of lackluster travertine that expanded across its main floor.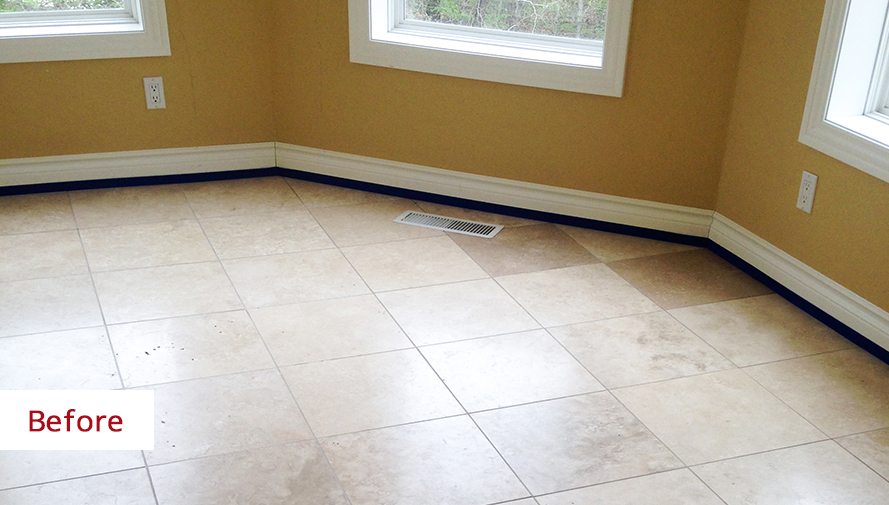 Steve and Stacey explained to us that they had tried using a myriad of methods to clean the travertine, but to no avail; after trying anything and everything they could think of, the stone looked neither shinier nor cleaner. At this point, they realized the floor required the help of a
Ridgedale stone polishing
company, so they wanted to know if Sir Grout of Southwest Missouri would be able to help. I informed them that the only way to fully restore travertine and to give it a glossy finish was with our honing and polishing process and that I was sure we could be of assistance. An appointment was then scheduled for us to come out to their lake house in Ridgedale later that same week.
When I arrived, I was greeted at the door by Steve and Stacey. They told me they had to drive several hours to get there and would have to do the same to get back, so they were hoping I could get the project done quickly. The couple then directed me to their dull, lifeless travertine floor and I went straight to work.
To begin, the first thing I did was clean the travertine. Once I was sure all dirt, grit, and debris had been fully eradicated, it came time to hone it. The honing process we use involves smoothing the stone with fine diamond abrasives in order to remove any existing surface scratches or damage. It was important to hone the stone until it had reached a super smooth consistency so that the next step could then be properly performed. Once the travertine was smooth as can be, the Sir Grout polishing process was used to create the beautiful glossy finish that Steve and Stacey had been desiring. When that was done, the only step left to do was buffing. To see the end result, take a look at the picture below: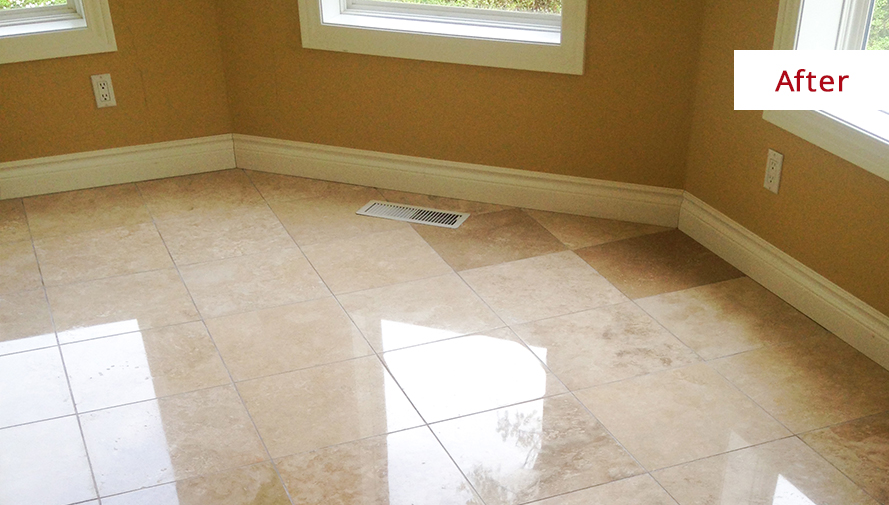 Now it was time to reveal the finished floor to the couple. As soon as they saw it, they were shocked by the results and could hardly believe the fantastic transformation Sir Grout was able to achieve. While they'd been hoping we'd be able to make the travertine look a little shinier and cleaner, they had no idea our process would be capable of making it look this great and they certainly weren't expecting us to get it done in such a timely manner.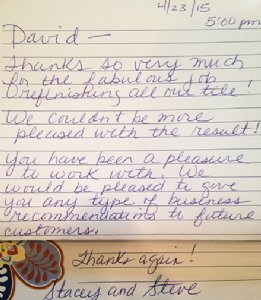 To us, there's no greater satisfaction than seeing customers happy with our work. In this case, however, even better than their smiling faces was the note of appreciation they sent us detailing their gratitude. The note, which is included below, read, "David – Thanks so very much for the fabulous job refinishing all our tile! We couldn't be more pleased with the result! You have been a pleasure to work with. We would be pleased to give you any type of business recommendations to future customers. Thanks again!"
If the floor, or any other hard surface, in your home could use some fixing up, please don't hesitate to give us a call. Whether your marble, granite, slate, or travertine needs to be cleaned, honed, or polished, Sir Grout of Southwest Missouri is always here to help.