Etch Mark-Free! Learn How a Stone Honing Service Restored this Elegant Carrara Marble Countertop in Springfield, MO
April 03, 2017
Many of us like to feel proud of our home and we go to great lengths to make sure it is welcoming and enjoyable. For some that means a comfortable living room or an astonishing master bedroom, a luxurious master bath, or decorative rustic exteriors. However, others choose to focus on one particular room: the kitchen. This is a place that invokes warm memories, tinged with the smell of food and the nostalgia of cooking and family gatherings. The charm of a great kitchen escapes no one. This is why so many Americans spend quite a lot of time and money on perfecting the kitchen of their dreams.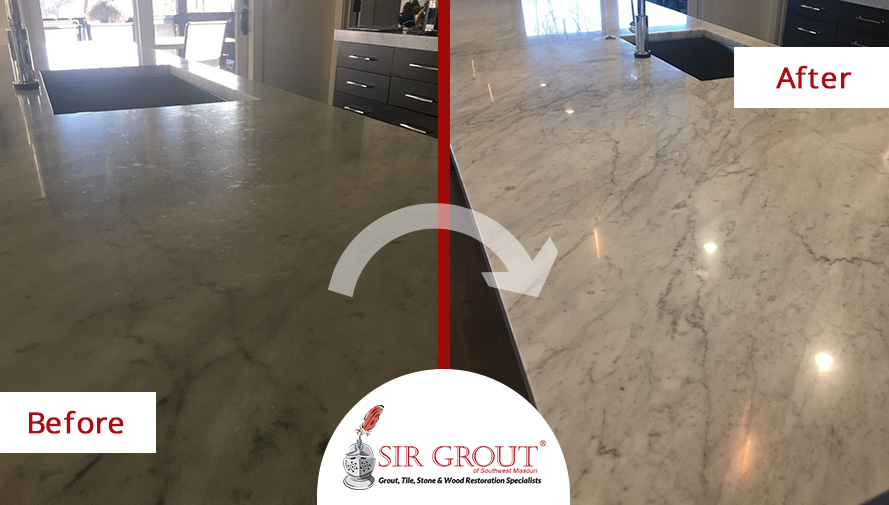 For this client, her kitchen was the epicenter of her home. It was where everything happened: stories were shared, big announcements were made, triumphs were commemorated, and sorrows were mended… all occasions accompanied by food. Her kitchen meant a lot to her, meaning she was willing to make an investment to upscale its value and appearance. She had a deluxe Carrara marble countertop for her island installed, and it sat at the center of the kitchen. However, time and usage was dulling the beautiful stone surface. Fearing it could get to the point where she would have to replace the entire countertop, our client resolved to look for a local
Springfield stone honing
service to restore it to its usual splendor before it was too late.
Bent on finding the best hard surface restoration services provider in Springfield, MO, she went online and researched all possible prospects. Her decision would be based on sound recommendations, solid testimonials, and great reviews, and she eventually came across Sir Grout SW Missouri. After looking through our extensive online restoration portfolio and noticing our accreditations from Home Advisor, she placed a call to set up a free in-home evaluation.
Our team of experts arrived on short notice to make all the necessary assessments before offering a treatment that could restore her precious countertop. Once our professionals were able to take a look at the marble, they saw all the etch marks and water stains ruining what should otherwise should be a uniform matte finish. They suggested a stone honing service to rid the marble of its marks to restore it. Trusting their experience and knowledge, our client gave her approval and scheduled a date for the service.
On the specified date, our team arrived at her residence and got to work immediately. They started cleaning the stone's surface thoroughly by applying our in-house produced pH-balanced cleaner with a high-speed yet gentle scrubber. After rinsing most residue off the stone, they used a high-temperature steam cleaner to rid the marble of all possible residue. Once the cleaning was done, the honing process began with the use of industrial diamonds to remove the stains, etching, and scratching to give the marble a uniform finish again.
Once the job was done, our team of experts showcased the results to our client, whose smile lit up the place once she saw her beautiful countertop brought back to life. She thanked them profusely and said she would hire them again once the yearly maintenance time came.
Are your stone countertops in dire need of a honing or polishing service? Here are Sir Grout SW Missouri we specialize in providing the best hard surface restoration services in southwest Missouri. Call us at
(417) 522-1010
or fill out the "Request a Quote" form to set up a free in-home evaluation with our expert technicians. If you are interested in stone care tips and more, follow us on
Facebook at Sir Grout SW Missouri
, and follow us on
Twitter @SGSWMissouri
and
Instagram @SirGrout
.