A Springfield Home's Dirty Shower Gets Saved from Mold & Soap Scum
April 30, 2015
Over the years, a customer in Springfield, Missouri, had grown unhappy with the state of her shower. The reason? The walls, grout, door, and fixtures of the shower had, as shown in the pictures below, developed a covering of white haze and mold that was only getting worse with time. By now, the problem had become too conspicuous for her to ignore any longer, so she knew it was finally time to take action. After doing a little research on
Tile and Grout Cleaners in Springfield
, she concluded we'd be the best company for the job.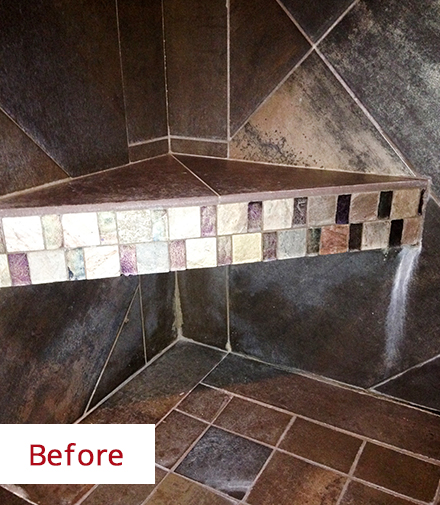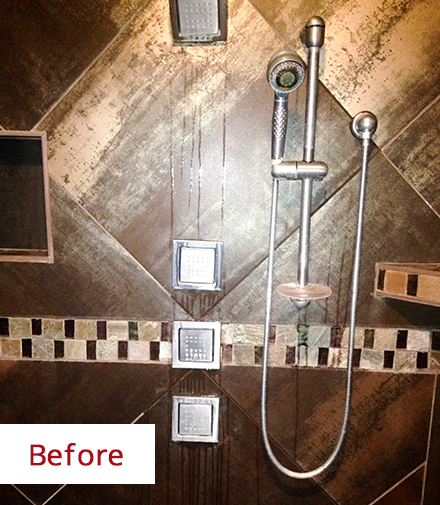 When we received her call, she explained her predicament to us in deeper detail. She knew the white haze was an accumulation of hard water and soap scum, but she didn't know the right way to get rid of it. Further, she told us the grout was missing in various areas of the shower. This was a problem within itself and it was made even worse due to the mold growth it had caused. What was she to do? After assuring her we'd be able to rescue it, she scheduled an appointment for us to come by a few days later.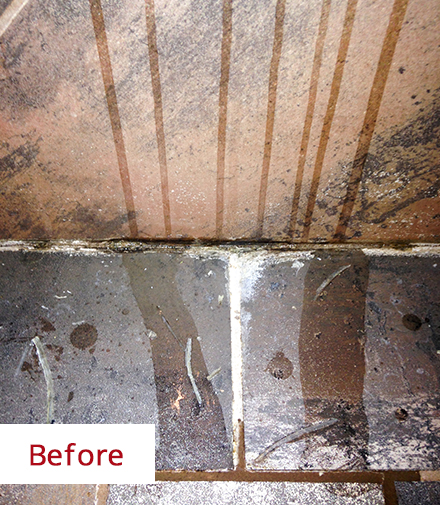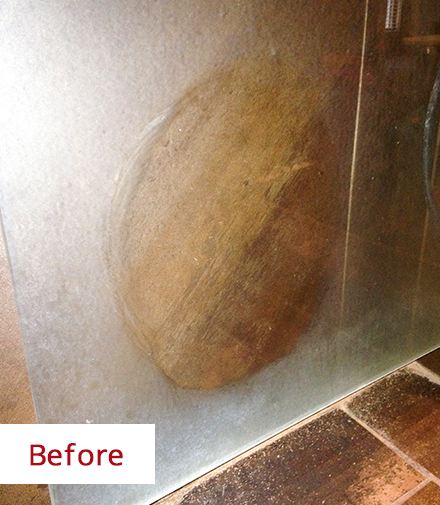 Once we arrived, the customer told us she had tried anything she could think of to get it clean but had returned little to no results. She then led us to the shower so we could take a look for ourselves. As it turned out, she was right about this project requiring the help of an expert, though we assured her Sir Grout's products would be able to completely remove any hard water or soap scum. The grout lines, however, would require more intensive care since they were in such poor condition. We determined the best solution would be to entirely re-grout the shower. Hearing this concerned the customer at first, but her mind was put at ease when we explained the quality products we'd be using.
The re-grouting part of this job would call for Sir Grout's new epoxy grout: a stain, mold, mildew, and even crack resistant product that's so effective we even warranty it. Restoring the shower door and walls would also require the use of a specialty Sir Grout product, a product that would provide a barrier of protection against stains and would prevent them from reverting back to the hazy state they were currently in. The best aspect of this product was that the customer would no longer need to squeegee her shower door. Although it isn't under warranty, I told her I can vouch for it myself since it had been applied to my own shower door a few weeks back and I haven't needed to squeegee the door since. In addition, the product wouldn't need to be reapplied to the shower until it had undergone many weeks of usage. Once all the customer's concerns had been alleviated, we went straight to work cleaning and re-grouting.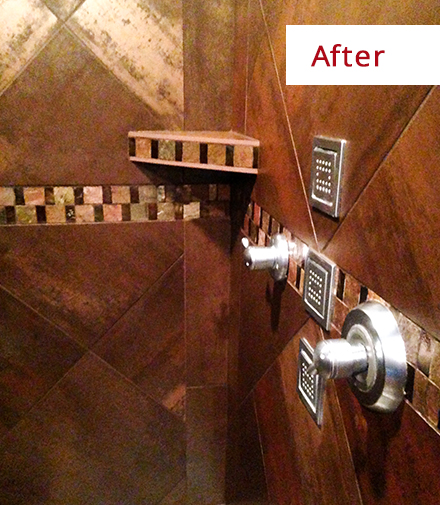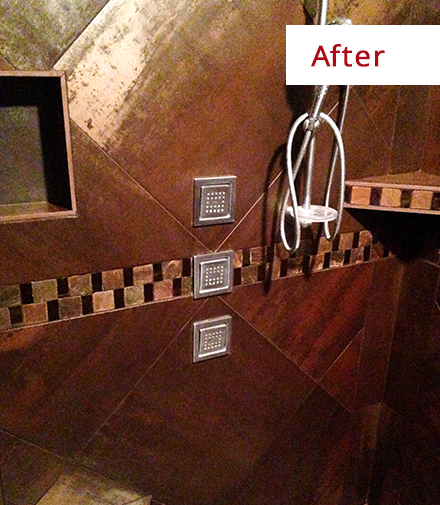 When we were done, the customer was called back in to take a look at the finished project, which you can see for yourself in the pictures above. She was immediately taken aback by how much brighter and cleaner the shower was as a whole, and was especially thrilled with its renewed door that was now crystal clear. Before parting ways, we said our goodbyes and she thanked us for our help. We were glad to leave knowing we helped make another customer's home into a better looking place.
If hard water, soap scum, mold, or mildew have been taking over your own shower, feel free to give us a call. No matter the hard surface type, Sir Grout is always available to help!